How much does a booth stand cost?
Update 2023
You want to participate in a trade or public fair in the Netherlands or abroad and are busy compiling a budget or cost estimate. You can set up your exhibition stand yourself, but you can also leave this to a professional stand builder who takes care of everything from a to z for you. But what are the prices and costs, and how are they structured? This is one of the most asked questions to our account managers. The prices of stand construction depend on a number of factors. On this page we try to explain to you in a simple way what influences the cost of your exhibition stand and how you can influence and estimate it yourself.
You can also leave this to us and request a quote without obligation.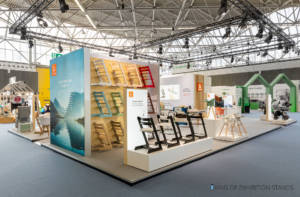 Want to buy or rent your exhibition stand?
In the case of rent, you generally pay one amount per exhibition stand/participation. This amount includes both the use of materials such as walls, floors, lighting, visuals, AV equipment, furniture as well as the costs for installing them and removing them again. The advantage is that you don't have to invest yourself and everything is arranged for you.
If you often participate in trade fairs or have very specific requirements, it can be interesting to buy your own stand. Then you can place them with your own staff or outsource it to a stand builder. Our experience is that if you participate in more than 8 trade fairs per year, it can be interesting to buy an exhibition stand. Because The King of Exhibition Stands uses modular frames with high quality removable visuals it is also possible to buy a part and rent a part, depending on the size of the exhibition stand.
What cost items should I take into account when I want to exhibit and need a booth?
Cost of bare stand space
Connections for electricity, internet, water, etc.
Walls
Floors
Lighting
Hanging points for truss, banners or high walls.
AV equipment, such as monitors, LED screens or conference call capabilities
Furniture
Visuals, led illuminated or not.
Is standard shell scheme cheaper?
Many exhibition organizers and exhibition locations offer standard stand construction, where you get a complete package at a fixed price per m2, often including:
Carpeting in colour of your choice.
Simple system walls in white, black or colour of your choice.
Light spots
Frisian frame conversion with attribution
Small electricity connection
Cleaning the booth during the fair.
The prices of standard stand construction are on average between 125 and 250 euros per m2 of stand space and these costs are in addition to the costs for the bare m2 of stand space. If you have a small stand (<24m2) then it is often cheapest to use standard stand construction because an external stand builder has high basic costs. For example, King of Exhibition Stands uses a minimum order amount of 10,000 euros per exhibition stand per exhibition.
If your booth is larger, we advise you to always request a comparative quote because you can often achieve a more luxurious and distinctive stand for the same rate. This is already possible from 300 euros /m2 including design furniture.
Price increases and shortages in 2023
As a stand builder, we also suffer from price increases and shortages of materials and people. During the corona period, a large number of stand builders stopped and switched to other sectors such as construction. As a result, it is currently difficult to find a good stand builder who can realize an exhibition stand in the short term, so it is important to look for the right party earlier. In addition, many raw materials such as those required for floors & visuals, for example, have risen sharply in price and the costs for personnel in accordance with the collective labor agreement have also risen along with inflation. Compared to the 2019 rates, the increase is between 10 and 20 percent. Our advice is to take this into account in budgeting. Of course we like to think along with you to get the maximum return from your investments in trade fairs.
More information?
If you would like more information or receive a catalogue, please feel free to contact us now.